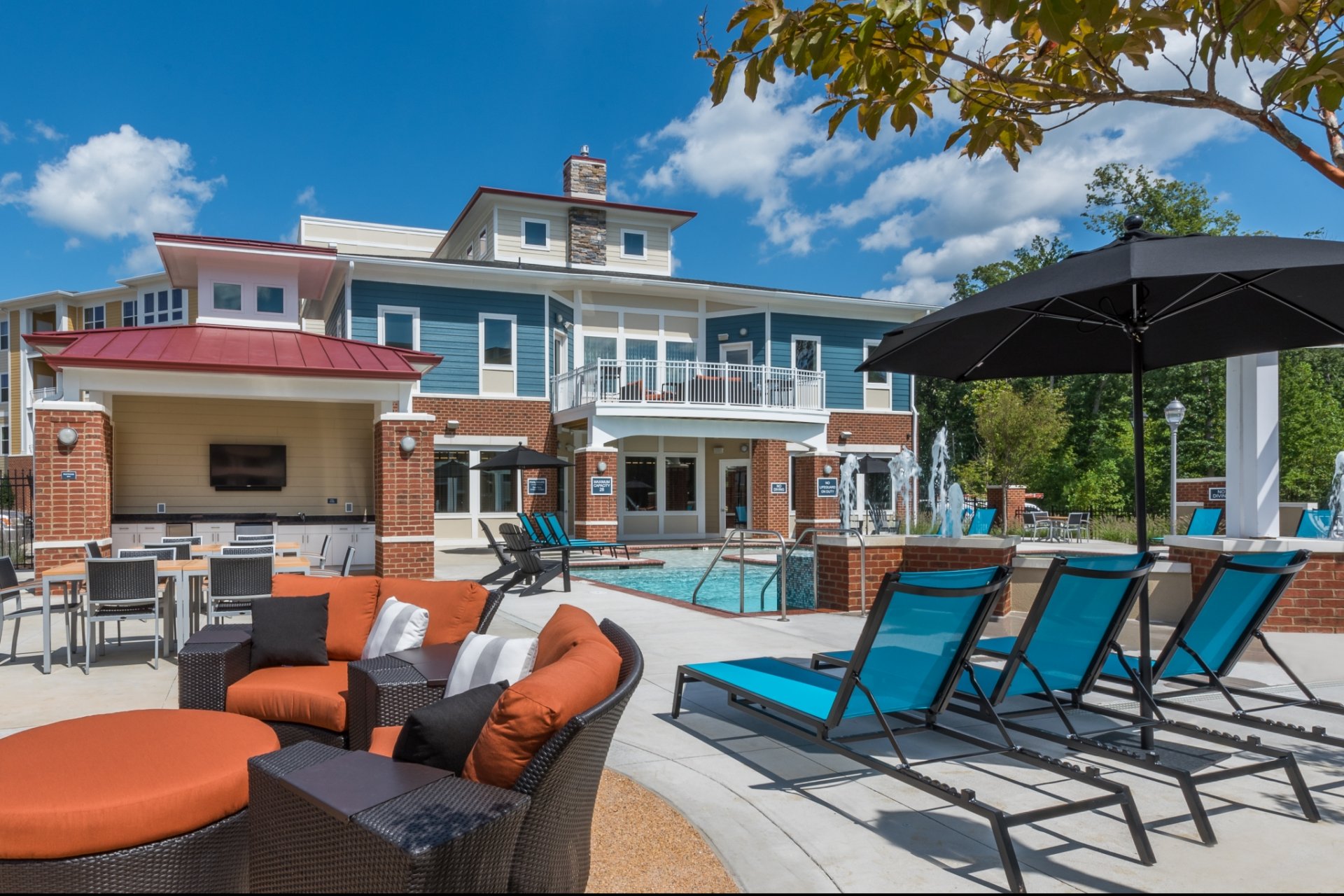 Your Review
Submit a Review

Resident Reviews
WONDERFUL
|

Recommended: Yes
Awesome|Recommended: YesThe staff is awesome. The community offers a lot to its residence as far as amenities and convenience. All around great place to live absolutely no complaints. The location is great due to it being close to I64. The apartments are also very close to local bars and amusement parks.
Great Place To Live But......
|Recommended: No
So far everything is great, although for the money I shouldn't be able to hear EVERY little thing my upstairs neighbor does. As I write this it sounds like they have a factory up there going on at 9pm. The other day my speaker fell off the way do to the vibrations coming down from what my kids have dubbed the elephant man above us. Next complex you guys build go the extra little bit and add some extra insulation in between the units. The complex otherwise is great, but this is enough to cause one to move after their lease is up.
We are so sorry to hear this! Would you mind if we contact your upstairs neighbor and let them know what you are experiencing? They might not be aware of how loud they are. We would love to try and rectify this for you.
Not energy efficient, poor noise reduction and over priced.
|Recommended: Yes
Great staff and clubhouse. Great maintenance response time. Kind of pricey for the square footage, not to energy efficient, windows and door seals are not good. Not good sound proofing you can hear everything in hallway and upstairs to include the elevator, stairwell and entrance doors.
Thank you for letting us know. I would love to send maintenance over to check out your windows and door seals. Please contact the office to let us know a good day and time!
Aura Review|Recommended: YesGreat place, a little on the expensive side but with that you have awesome amenities and location. I think in a few years once all the construction this will be a very sought after location to live, hopefully the price doesn't increase.
Paradise|Recommended: YesI live in a resort community No really its the closest thing to it High quality finishings, quality service, and great employee helpfulness One would think they're on some sort of vacation the way things are set up here. I'm very pleased I made this move
I really love the location|Recommended: YesI love this apartment. It's in a great location, super close to the highway and major roads. The grounds and amenities are the best part. My son feels like he lives in a hotel. I really wanted a 3- bedroom but due to the layout I settled for a 2 bedroom. Overall this place is awesome, luxurious and very affordable
Amazing Staff
|Recommended: Yes
Wow The staff here are also amazing. I was looking for a place for my our of town aunt to live. I found Aura at Quarterpath online and started researching. I stopped in and was greeted by friendly helpful staff that supplied me with further information and suggested I make an appointment for a tour. My aunt and I toured the facility and completely agree with all the great reviews about the location, amenities, apartments, and grounds. The staff there are patient and kind with all our questions during the tour and have been prompt and so helpful with the follow-up emails we have sent since the tour. It is very comforting to know your loved one will be safe and happy.
Thank you so much for this amazing review! We love the positive feedback!
Ideal Location, Luxury and Lifestyle all combined into one
|Recommended: Yes
The property is ideally located near major transportation routes convenient for a longer commute or a local drive into town. There a well thought out additions and property amenities provided at no cost which elevate living at the Aura to luxury. As an all inclusive property situated within the surrounding community of Williamsburg the Aura is the place to be.
Thank you for this fantastic review!
Resort Style Living
|Recommended: No
Aura is a very nice place to live. Conveniently located to shops in close proximity to I-64, thus a place to live when you work or study in Williamsburg, Hampton or Newport News. It offers all amenities you need and the management is very accommodating.
Thank you so much for such a nice review! If you have any suggestions on how we can make things any better than what they already are please let us know!
Love Aurora at Quarterpath|Recommended: YesLove everything about living in this complex
Spacious living with lots of entertainment
|Recommended: Yes
I am impressed with the nuances all around the property. Large door frames with high ceilings. The Valet Waste service is great. The Community club house area is loaded with more resident enjoyment in mind then I have ever seen. A nice pool to enjoy year round even if it's too cold to swim . Outdoor grills with an outdoor TV. A fitness room with weights and aerobic fitness machines. A separate conference room with a large screen TV, a business center Mac and PC with a printer. A video entertainment room 3 large screens with surround sound and a beverage serving area and a microwave. There is a patio over the pool, a billiard table, 80's video games, and a full service lounge with a dinning room table that can seat 8 or more people. Oh, and a large screen TV at both ends of the lounge game room. There are bicycles you can barrow during the day. It is always a pleasure to walk around the property and meet other residents. The staff are always eager to help make my stay here a great experience
Thanks so much! Please let us know if there's anything else we can do to make your stay here more enjoyable.
Quiet, relaxing and stress free|Recommended: YesQuiet, relaxing and stress free
Upscale beautiful property|Recommended: YesThe staff is extremely friendly and helpful. The buildings are beautifully crafted with a high attention to custom detail. There are amazing amenities. Pool, gas grills by the pool, exercise room with free weights, pool table, media room, the list goes on and on. The apartments are amazing too. Kitchens are the best in town with stainless steel appliances and granite countertops. Depending on floor plan there are islands or large peninsulas in the kitchen. Large windows in living area and bedrooms. The closets are huge and bathrooms are larger than expected. Great location to live in an up coming area
Great Place to Live|Recommended: YesAura at Quarterpath is a great place to call home The staff members are friendly, helpful, and quick to answer any questions that may arise. The grounds and facilities are well kept and maintained by friendly courteous workers. The resort style amenities and variety of apartment layouts are top notch. The location offers convenience to local shops, I-64, and Busch Gardens I would highly recommend Aura at Quarterpath
The views and opinions expressed herein are solely those of the original authors and other contributors. These views do not reflect the views of Aura at Quarterpath, its owners, managers, agents, employees or content providers. No representation or warranty, express or implied, is made or given by Aura at Quarterpath, its owners, managers, agents, employees or content providers regarding safety, accuracy, completeness or suitability of the information or material expressed herein for any particular purpose