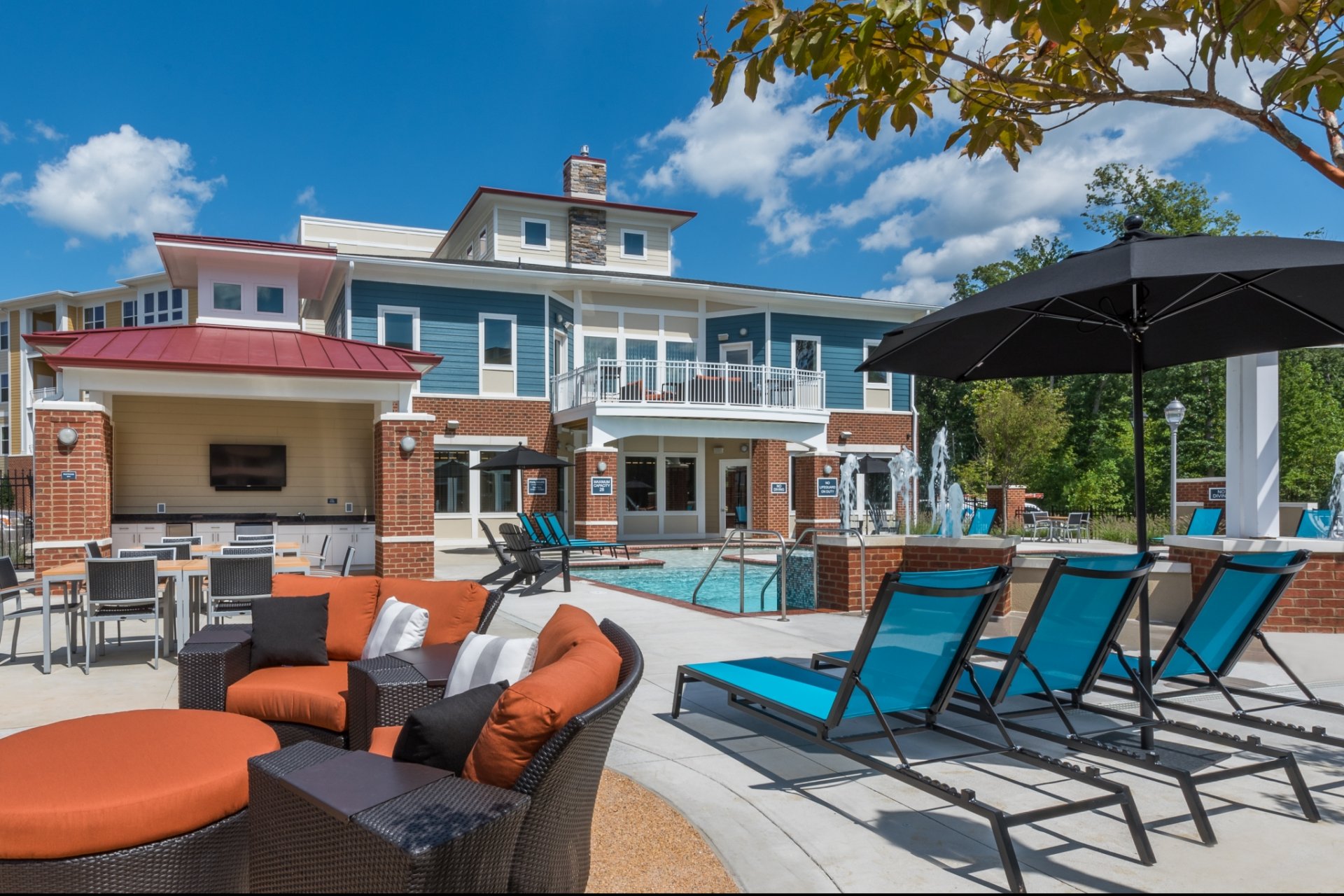 Your Review
Submit a Review

Resident Reviews
|Recommended: YesOnly two complaints — Beautiful apartment and complex. Office staff is very friendly and helpful. My only complaints are that I can hear my next door neighbors more than I would like, especially their dog. And anytime we try to hang something on the walls in the apartment the paint immediately chips off.
|Recommended: YesLuxury Apartment Living — I enjoy living here and the facilities available to the residents are great The staff are very friendly and helpful. Love that they are on top of the rules to keep the facilities nice
|Recommended: YesReview — After the initial move in debacle, I find that living here is nice and quiet. I like entering the apartment by a hall way instead of from the outdoors. The walking trail turns into a mountain biking trail near the end with steep slopes to the botom of ravines then steep ascents. You can walk to Colonial Williamsburg in an hour and I recently looked at bus service, grey line, that services Route 60 as alternative to walking back.
|Recommended: YesGreat Apartments — I've been living here for almost three months now and really enjoy living here. I love my apartment and enjoy coming home each day. My neighbors are quiet and friendly and there is not much noise. You do hear the occasional dog barking, but I don't mind since my dog barks at times. The amenities are great and I enjoy having the dog grooming room. One thing I do wish is that they enclose the large grassy roundabout to become a dog park. It would be really great for the apartment complex. I would say that my only complaint is the amount of dog poop lying around the grounds and on the sidewalk. It wouldn't be an issue if owners picked up after their dogs but many don't. Overall, I love living here and would recommend it to anyone.
|Recommended: YesGreat Property Staff — The staff is so accommodating. They made it so easy for me to relocate to the area. It also amazes me how quickly the staff handles problems. The property is always nice and clean. It is great to be a resident here at the Aura.
|Recommended: YesExceptional Service and Attention — My wife and I recently retired from the military and were looking for an apartment in order to assist us during our transition from active military service to civil and private sector employment. The staff at Aura were extremely helpful and patient...my wife and I had not lived in an apartment for nearly 30 years, and we were unaware of the new and current pre-screening requirements. Karrah and Liz at Aura Quarterpath were phenomenal. We could not have asked for a better team of professionals. They patiently explained everything to us and rapidly responded to our questions and concerns. Since our arrival nearly two months, we have been pleased with the staff, amenities and location of Aura Quarterpath. We would and will recommend this property to our friends.
|Recommended: YesGreat — Great
|Recommended: YesA Pleasant Place to Live — Fantastic The complex is tucked away, but very conveniently located. The amenities including the pool, gym, and movie theater are extensive and wonderful The staff is always on hand to help.
|Recommended: YesProperty is well maintained and the Staff is very helpful and friendly. — You will feel like a VIP.
|Recommended: YesBeautiful decor. Very spacious. Friendly environment — Living at Aura is very convenient. The location is close to major attractions such as Bush Gardens Colonial Williamsburg. The landscape and atmosphere provide a relaxing vibe and truly makes one feel as if they was on vacation.
|Recommended: YesProperty review — Quiet clean and friendly neighbors and staff. Wish we had monthly community events planned.
|Recommended: YesGood management, great ammenities — Tiffany Thompson in the office is awesome. She responds to emails inquiries very promptly, and with accurate information. I had to break my lease due to a job move, and she made the process seamless. Management has changed recently, but I believe for the better. The email system to notify guests of issues needs fine tuning. It didn't always seem to reach me, I had to hear about things thru neighbors. Overall a good experience
|Recommended: YesThis place is pretty awesome. — I love living here, I love my apartment and I love the lady's in the office. Everyone in the office knows my dog and I by first name. I sometimes feel like I live in a hotel. I've lived here close to a year now and I have seen how each season works. During the summer the pool and game room's are always clean and a fun hang out spot when I have guests over The winter they do a good job cleaning up the snow. My puppy is a very happy puppy with plenty of room to play and run The dog grooming room might be my favorite thing they offer, besides the fact I don't take my own trash out I would recommend this place to anyone
|Recommended: YesLovely apartments — The clubhouse area and available activities
The views and opinions expressed herein are solely those of the original authors and other contributors. These views do not reflect the views of "Aura at Quarterpath", its owners, managers, agents, employees or content providers. No representation or warranty, express or implied, is made or given by "Aura at Quarterpath", its owners, managers, agents, employees or content providers regarding safety, accuracy, completeness or suitability of the information or material expressed herein for any particular purpose