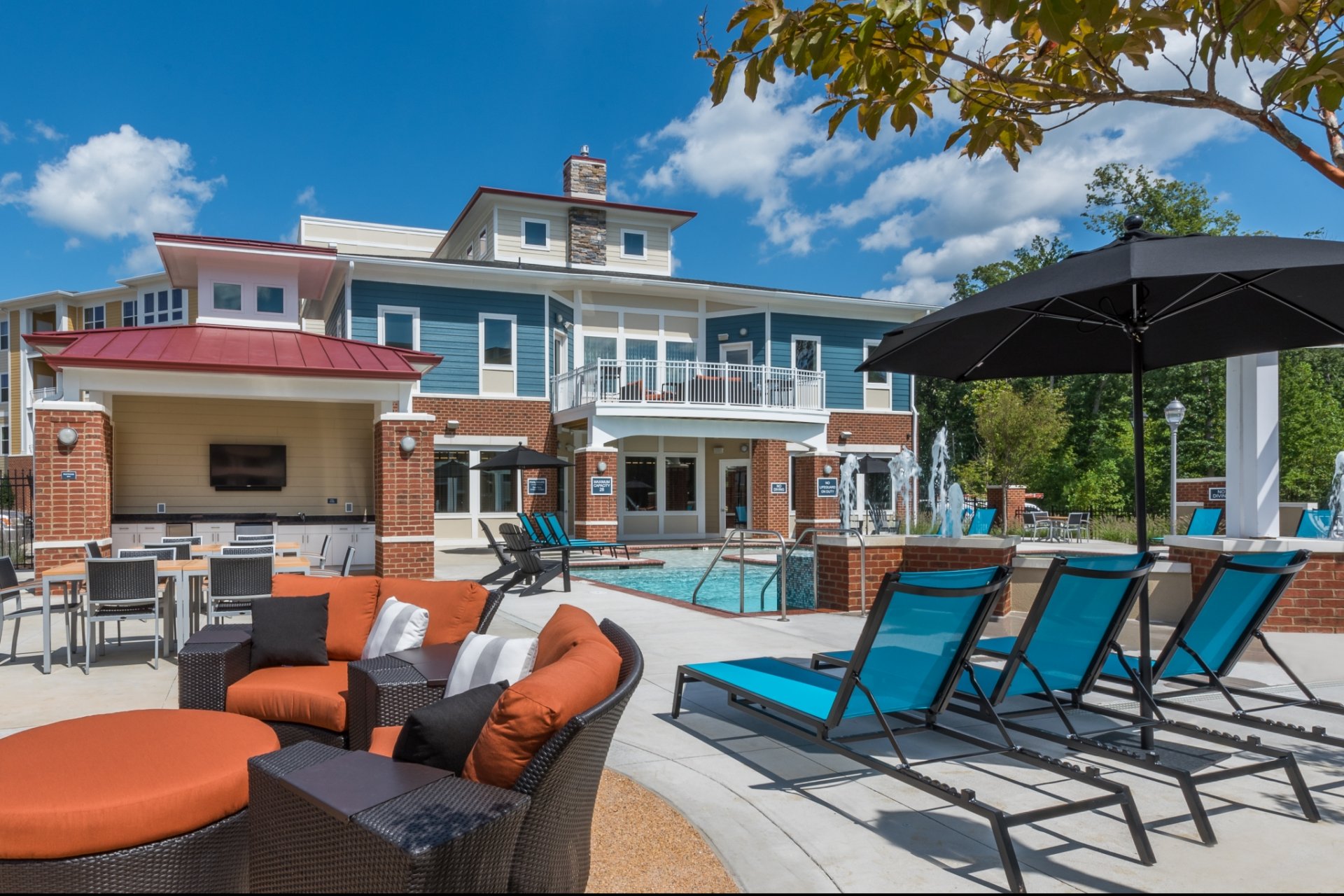 Your Review
Submit a Review

Resident Reviews
Quiet, convenient and wonderful place to live
|

Recommended: Yes
Good value for luxury apartments|Recommended: YesAmenities are nice, apartments and property is clean
Great plae to live|Recommended: YesWe are having a home built so we are staying here short term. I would highly recommend this environment for any age group. Wonderful amenities and great location for shopping and playing. The staff is so friendly and incredibly helpful in all aspects They will do anything they can to fix a situation That in itself says lots
Beautiful Place with Good Staff but not Perfect.|Recommended: YesIt's one of the more attractive apartments with decently good staff. A work order that I put in took a week longer than they promised to get taken care of 3 instead of 2 weeks . You have to pay 200 for amenities fee, which is one of their major selling points but they refuse to replace their community grill brush, where the bristles are practically gone and need replacing. Don't get me wrong, I do like their amenities but with a fee like that I expect them to do that small service. Spacious and absolutely gorgeous place, but something gives me a feeling that the people who built this place were focusing more on the aesthetics than design. The walls are fairly thin so you can hear people's footsteps, especially your roommates. Also, I have one of the corner rooms, and my bathroom has just too much unnecessary space.
Aura is decent|Recommended: YesThey are pretty decent to live at. The neighbors are all friendly. Staff is friendly too. I actually have no complaints.
Outstanding|Recommended: YesWe love living here friendly staff, fast maintenance
It's a nice and clean place to live.|Recommended: YesIt's what you'd want. Everything's in reach but never in the way.I'm a private person not anti-social so I like to be able to take care of most of my needs after work without having to run around town. The pool and workout equipment available on the property as well as having a Harris Teeter down the street makes it easier to relax after work.
Beautiful, well maintained, friendly, and comfortable|Recommended: YesThere isn't much I don't like. I'm only here temporarily while my house is being built. The apartment is beautiful and clean and the grounds are well maintained. My dogs have been welcomed from the start and love the trail through the woods. I would highly recommend this complex to everyone
Best place to live in Williamsburg|Recommended: YesIt's like you're on vacation year round.
Top of the line as far as apartments go.|Recommended: YesA very nice place to live.
Nice|Recommended: YesGreat
Great place to call my home|Recommended: YesEverything is wonderful and if it's not they are here the same day to make it wonderful I love coming home after a long day just know I have a great place to live the convenience of the store that's down the street and I love that it's so close to everything but still far enough way you can tell when they were building these apartments they were thinking about us
Perfect apartment bad location|Recommended: NoIf you like to live in quite you should come here.
Great Property for All Types of People|Recommended: YesI really like the peacefulness of Aura and how clean and new it is. The property has a lot of different types of apartments and the prices are accommodating enough for young people, working professionals, or older residents. Also, something I think the property should advertise more is that Harris Teeter, a gas station, a Chinese restaurant, and more are located just a 1 minute drive away
Grounds upkeep|Recommended: YesNow that summer and hot weather are here my only issue is with the doggie poop stations, esp the one behind bldg 3950. The station really needs to be picked up every other day. It gets full and really stinks. Also possibly get sanitized weekly or biweekly. According to maintenance, only pick up on Mon and Fri. Definitely not enough times. Other than this everything else is great .
The views and opinions expressed herein are solely those of the original authors and other contributors. These views do not reflect the views of "Aura at Quarterpath", its owners, managers, agents, employees or content providers. No representation or warranty, express or implied, is made or given by "Aura at Quarterpath", its owners, managers, agents, employees or content providers regarding safety, accuracy, completeness or suitability of the information or material expressed herein for any particular purpose